The Culinary Arts Specialties Story


Culinary Arts Specialties, Inc. was founded in 1982 by Arthur P. Keller. He was a Swiss pastry chef by trade (in Swiss terminology a Konditor Meister) and quite a colorful character. He left his home in New York City to start his career at the age of 15 years. After an apprenticeship in Switzerland, he applied his skills as a Master Pastry Chef in some of the finest Grand Old Hotels in New York City, Philadelphia, and Atlantic City. There he dazzled countless famous people including Frank Sinatra, General Douglas MacArthur, Mrs. Eleanor Roosevelt, and the Duke and Duchess of Windsor with his incredible artistic creations.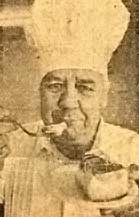 Arthur used his creative talents and experience in the product development departments of several of the world's largest food companies. Many of the products he worked on are still on the market today. After twenty-three years, he retired from the development field and founded Culinary Arts Specialties, Inc. with his son Arthur L. Keller (current President and CEO).
Arthur P. drew on his extensive career from apprentice to product developer to create the formula and exclusive "Swiss" baking process used in our famous New York Cheesecakes. After Culinary Arts Specialties, Inc. was chosen as the cheesecake supplier to the Knoxville Worlds Fair in Tennessee, the company rapidly expanded its business to become one of the finest cheesecake manufacturing companies in the world. Arthur L. Keller is now joined by his two sons and co-owners Arthur A. Keller and Andrew P. Keller. Culinary Art's Specialties, Inc.'s main focus is in the private label retail segment with a rapidly growing institutional concentration. The company currently services a number of large and small supermarket chains throughout the world in both the frozen grocery and bakery divisions in addition to food service distributors. Culinary Arts Specialties, Inc. has also served as a co-packer for the most well known internationally branded retail and institutional cheesecake label on the market today.
Makers of "The Real" New York Style Cheesecake!